Info:
Robyn-Lynne Reid - Audiologists, Speech Therapists, George, Western Cape, South Africa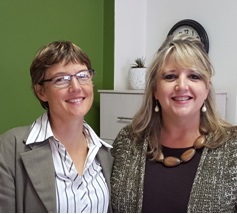 Robyn-Lynne Reid (Audiologist and Speech Therapist) & Winifred du Plessis (Practice Manager)
The sense of hearing is fundamental to interaction. Humans are naturally social beings and we rely on our hearing in order to interact with others and our environment.
This practice focuses on both adults and children within the George region and environs; serving the hearing needs of the population through diagnostic assessment and appropriate intervention to maintain the link with the world around us when hearing has become compromised.
The focus is on listening to and addressing each individual client's hearing concerns and needs.

Intervention may include rehabilitation, counselling, information provision, referral as well as the possible provision of hearing instruments or assistive listening devices, if indicated.
Areas of focus: client-centred diagnostic audiology, auditory processing disorders and classroom acoustics/school-related factors, tinnitus, ototoxicity, industrial audiology, noise exposure coupled with noise-induced hearing loss and ear protection, hearing preservation, aural rehabilitation, counselling, medical management with appropriate referral, age-related hearing loss, school hearing screenings, middle ear infection and related speech-language therapy in children, speech and language therapy of the English paediatric population.