Chapter 10 - Shaping a Community
Undoubtedly one of the leading personalities of Milnerton then and for a long time to come, and one whose name deserves to be specially com­memorated, was Frederick Henry (Frikkie) Langerman. Born just over 100 years ago, in Sea Point in 1875, he was the son of F. J. B. Langerman, a leading citizen of that as yet independent municipality, of which he became Mayor, besides establishing the original Sea Point Tramway Com­pany. Since the day of the electric car had not yet dawned, Langerman Senior gained a reputation as "the best judge of horseflesh at the Cape", incidentally securing the tractive animals of the company's fleet from those famous Malmesbury breeders, the Melck's. Frikkie in due course developed similar tastes, but his earlier career took him a long way from home. After finishing his education at the South African College, he went to Rhodesia, as a member of the famous original 1890 Pioneer Column. Next he tried his luck on the newly-opened Witwatersrand, where he worked on several well-known properties, including the Langlaagte and the Randfontein Estates. But in 1899 he was back in Rhodesia as manager for several gold companies, for which reason he was elected a member of the Rhodesian Chamber of Mines.
Frikkie's real chance to show his inherited interest in horses came when, returning to the Cape soon after the Anglo-Boer War, he built himself a magnificent house in Rosmead Avenue, Kenilworth, equipped with extensive stables, in close proximity to the course of the South African Turf Club.
"As a successful owner," we read in 1905, "Mr. Langerman has no equal in the Colony and his efforts have done much to bring racing to its present high standard of efficiency. He is a strong supporter of the move­ment for doing away with bookmakers on all South African courses, preferring the Totalisator as a medium for ensuring fair racing."
From the very beginning Frikkie Langerman was deeply interested, not only in the horsey possibilities of Milnerton, as manifested on its Race Course, but in the Milnerton Estates as a Company, whose Board he join­ed at an early stage and of which he successively became Sales Representative in town and in 1907 Managing Director. The link held to the end of his days.
At last, in January 1910, things began to move in regard to the Golf Club, when no less a dignitary than Mr. Vos, a senior official of the Surveyor-General's Department, went over the ground in person to help in the proposed lay-out. His advice was that the Company should assist in every possible way, particularly by providing a Club-House free of charge. Yet Vos's first idea was frowned on, of asking an option on ground for a Club still to be formed.
On February 2, 1911, a group of prominent Cape Town men gathered at two in the afternoon in the old Opera House facing the Parade. Among them were J. C. F. Gore, the father of the entire project and in ordinary life Manager of the local branch of the Guardian Assurance Company, and Lachlan Mc Lean, General Manager for South Africa of the Union-Castle Mail Steamship Company, renowned too as a pioneer of trout acclimatisa­tion. There was also C. W. H. Kingsley, Law Agent, A. I. Little, manager of the Kitson Cape Lighting Company, F. S. Green, another prominent Sea Point man; W. Pegram, the mineral water manufacturer, and William Hay of the Southern Life. Confronted with Vos's scheme to set up a Country Club they considered it out of hand as impracticable. On the other hand it was "quite feasible" for a Golf Club to be laid out, provided the Milnerton Estates gave a 21-year lease at a rental of £50 a year, for an area, equivalent to about" 1 000 lots, situated opposite the bridge between the Diep River and the Sea". And so it came to pass. Another year had gone by before, on May 6, 1912, a report arrived that operations had been commenced on the Course. Trees were cut down to create the necessarily perfect surface and by 1913 the Milnerton Golf Club was in full opera­tion.
Despite a modest original nine holes, it soon gained acceptance and, having attained its full statute of 18, became the venue for important tour­naments.
All through this time, though with varying intensity, the sales cam­paign of the Milnerton Estates continued. Hopes had flared up in August 1910 when Mr. Lawrie informed his Board that he had been approached by "the representative of a powerful American Land Syndicate", ready to handle the campaign. Whether this visitor was responsible for the result is not clear, but the fact remains that a list of buyers recorded soon after showed an increasing number of successful transactions, covering a far wider field. With a new team of travelling agents at work, 17 plots had been sold - five of them on the "debenture system" and 12 on in­stalments. Prices ranged from £90 to £500, the customers coming from Cape Town, Vereeniging, Kroonstad, Lady Grey, Barkly East, Adelaide, Kimberley, to say nothing of Milnerton itself. With such a revival it was scarcely encouraging for Mr. Lawrie to be confronted with the prospect of a cut in his pay, even if he was to enjoy the use of an office and permission to take in outside work. Not surprisingly, he resigned, leaving the manage­ment to make whatever arrangements they could. These included the ap­pointment of a new Secretary, to share an office at £2 a month with the Milnerton Turf Club in Cardigan's Chambers.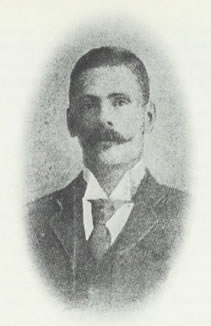 Mr F.H. Langerman
For the convenience of the general public a fresh amenity was furnish­ed, on the suggestion of the Government Telegraph Department - "the erection of a Telephone Call Office at Milnerton, allowing a reduced rent of £15 per year, instead of the £24 paid previously". Along with this, though in a different 'field of endeavour, went another improvement. "Owing to the scarcity of drinking water at Milnerton a pump costing the Company £3, has been erected and this is giving a splendid supply."
On the transportation side too improvements were under considera­tion, more particularly a proposal to acquire for the Railway a "petrol-­electric car", in place of the present steam engine and coaches". Here a memorandum was prepared, but the idea was a bit too progressive for that age. Instead came an increase in First Class fares on Race Days, from 1/3d to 1/6d between Cape Town and Ascot, the new name, since 1912, of the Milnerton terminus. Stimulated by the consistent losses sustained, discus­sions arose at fairly regular intervals about the possible transfer of the line to the Government. By 1913 these feelings prevailed. "It would be of the utmost advantage if the sale takes place during the ensuing Parliamentary Session," declared Carl Jeppe, pointing out that the money would come in handy to "organise and focus the general demand by the public for the ex­tension of the railway to the Koeberg district". He added: "Although practically everyone living there is strongly in favour of such a measure, as being urgently required for development, individuals cannot be expected to incur expenditure in connection with the matter." Jeppe also favoured payment of a two per cent commission to any person who found a suitable buyer - particularly the Government.
With fresh proposals under examination for the extensions of the Milnerton Railway all the way to Philadelphia and Kalabas Kraal, the ser­vices of Sammy Marks, now a Senator, proved particularly welcome. But the policy of the South African Railways & Harbours, with which the old Cape Government Railway system had been merged since Union, did not envisage such an idea, and its engineers recommended a different route.
One old and influential friend passed away in September 1912. This was Anders Ohlsson, the brewer, who in a quiet way had done a great deal for Milnerton. His association with the Southern Suburbs of Cape Town Water Company rendered it possible to secure a useful 5 300 gallons a day for the Hotel Cambridge. Periodic arguments with the neighbouring Municipality of Maitland flared up again when a dispute arose about access to the road to the Paarden Island Beach - a subject of argument for a long time to come.
Development of a permanent community at Milnerton now took place at an increasing rate. A newcomer in 1910 had been Thomas Gallagher, builder and contractor. In the following year control of the Cambridge Hotel passed to D. W. Panton, previously the manager and now pro­prietor. Other arrivals included L. Langerman, dairyman, and his rival F. Schippers, the address of the latter being given as "off Koeberg Road". An additional firm of builders set up in 1911, namely Patters on & James, as well as a locksmith named F. Hall. For some reason Mr. Schippers gave up in 1912, when he was replaced for a short while by J. Munchmeyer.
Donaldson & Braby's Cape Directory for 1912/13 gives a crisp ac­count of Milnerton, describing it as "a rising residential suburb, five and a half miles by rail from the Metropolis. A good supply of water is laid on from Maitland, the estate being divided by the Diep River. It lies within the Municipalities of Woodstock and Maitland, and is partly under the Rural Council. There is no Post Office, and all letters should be addressed per private bag. Policed by a mounted patrol, it boasts of a first-class hotel, dancing hall and a park. A few minutes from the hotel is situated the charming Ascot Racecourse."
Then follows a list of residents, namely: F. Botha, T. Gallagher, W. Cason, J. H. Cooper, C. Craig, D. Gunn, W. Langerman, W. Mathews, D. Panton (Proprietor of Hotel), J. G. Reid and Mrs. Steyn. In the follow­ing year, 1913, another Public Call Office was recorded being at Cam­bridge Hotel, Number 02 Central, "with extension to Station". Milner­ton's parliamentary representative was Advocate B. K. Long, afterwards editor of the "Cape Times", for the constituency of Woodstock. Along with this went the information that Milnerton fell under the jurisdiction of the Woodstock Magistrate's Court and administratively under the "Rural Council for Road and School Board Rates".
Two churches had been built, an Anglican one, St. Oswald's under the Reverend O. J. Hogarth, Bachelor of Divinity, as Rector; and a Mis­sion Hall belonging to the Wesleyans. Miss Baker was the principal of the A3 class school. A. van Niekerk of Vissers Hoek was both the Field Cornet and Justice of the Peace; and Dr. R. Sharp the District Surgeon. Already the number of residents had shot up to over 50, a figure raised to 54 in 1914.