Chapter 22 - Residential Growth
Now that it was accepted that Table View would inevitably be merged into Milnerton, the practical implications of this process demanded in­creased attention. Some of the most important were of a financial nature, with the Divisional Council exercising its rating powers in competition with those of the Municipality. As frequently happens, acrimonious and long drawn-out arguments arose as to the limits to be observed by the rival authorities. Already on November 27, 1963, the news that the Divisional Council "proposes to reduce the Domestic Water Tariff in the rural areas by 2.75 cents, to 40 cents per 1 000 gallons", aroused protest from Milner­ton. "As matters stand at present," complained T. A. Koen, the Town Clerk, "the urban local authorities are not consulted in any way, nor have they any control over the development of these uneconomic water supply systems. What is worse is that the schemes do not comply with ordinary standards for urban water supply schemes, so that, when these areas are subsequently incorporated into the urban areas, the urban local authorities not only have to take over the outstanding liability on these schemes, but are faced with the very heavy burden of replacing unsuitable schemes developed on inadequate pipe sizes.
"The case in point is the water supply scheme to Table View Township, where the Divisional Council allowed the sale of plots on 2 200 erven served by a supply line of only three inches diameter, exten­ding over a distance of close on nine miles. . . I recommend that the Pro­vincial Secretary be informed that this Council objects most strenuously to any increase in the Divisional Council Rate Levy in the Milnerton Municipal Area in 1964 . . ."
Less controversial was the action taken by the Municipality in bitumenising the roads in Table View Township, where, as early as March 1964, it was recorded that "work is proceeding rapidly". Once this had been completed, "residents in this portion of Table View (between Gill Road and Schreiner Road) will have a ring road, giving them access in and out of the township". While this was acknowledged to be costly, it would, at any rate, "give the residents of Table View Township a much­ needed amenity".
The "Cape Times" of July 29, 1964 reported that, in view of the fact that the new township of Bosmansdam would come into being in January 1965, tenders were already being called for 300 wooden houses, as a first instalment in an estimated programme designed to accommodate 4 000 families.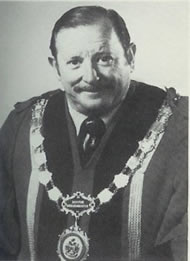 Mr L. Gelb – Mayor: 1963 -1965 and 1977 – 1980.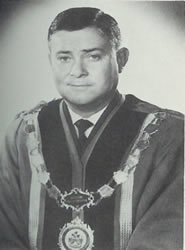 Mr F. G. Kotze – Mayor: 1965-1968
Though still thinly-populated, sufficient population had accumulated in the area to warrant a Table View Ratepayers' Association, a deputation from which, comprising Messrs. J. P. Bester, S. F. Streicher and A. L. Ritchie, waited on the Mayor of Milnerton on May 5, 1964. As spokesman Mr. Bester began by acknowledging that they "could not expect the Coun­cil to supply us with all the services enjoyed by the Milnerton ratepayers", instancing water-borne sewerage and storm-water drainage. "Initially," he acknowledged, "people had been prepared to build at Table View, for the reason that it would be cheaper to live there." Unfortunately this had not proved to be the case. "No regular bus service is available at Table View; there are no schools and no doctors, and consequently residents have to do a great deal of travelling." For this reason the inhabitants asked for Dif­ferential Rating. In reply Councillor J. Gelb, the Mayor, explained that even should such a principle be adopted, it would necessitate a revaluation of Table View, at a considerably higher level, and he was doubtful whether this would be worthwhile.
One unusual method of attracting residents to Table View was sub­mitted to the Council for approval in July 1964, when a request was received for leave to erect wooden houses, relying on the precedent set at Bosmansdam. With understandable caution however the Municipality referred the would-be investors to the Department of Health in Pretoria, whose approval was essential.
Notwithstanding the ever-increasing involvement of Milnerton in the fortunes of Table View, doubts of its value continued to persist in many quarters. "For many years," remarked the Mayor on June 22, 1966, "the Council has assumed that Table View is a speculator's paradise and many owners of property in that Township do not intend developing it themselves. Numbers of people wanting to build there are handicapped through lack of services. The fact that landowners in Table View do not want to develop their properties, is something I want verified." He then made a suggestion: "Plot owners should be circularised with the question as to whether they would be prepared to develop their properties if the Council provided the necessary services." Such owners, he emphasised, should give the Council both the necessary undertaking that they would effect improvements within a stipulated time, and a guarantee that they would forthwith pay rates on the same basis as though a house had actually been built.
Certain inherent merits of Table View helped to ensure that the place went ahead, and Councillor H. G. Dowling, a later Mayor, viewing recent events on September 3, 1969, declared that already an average of six to seven plans for new buildings were being handed in monthly. "Unfor­tunately," he added, "these are spread over the entire estate, and it is not easy for the Municipality to service about 250 buildings scattered across an area of 2 300 plots, only 12 per cent of which are developed." Nonetheless the Council set about installing services, wherever possible providing leads to water mains. No less important was the commencement of "semi-permanent surfacing to the streets". His Worship, having taken the opportunity, a short while previously, of addressing a meeting of Table View residents, now himself approached the Provincial Administra­tion with a scheme for Differential Rating.
In order to finance the expensive services still required in Table View, as well as to meet a substantial demand for land in those parts, it was decided to subdivide the commonage of the township into an extra 160 plots. Despite opposition from certain quarters the scheme not only went through but the profits helped to pay for other development, including storm water drainage, sewerage and improved water reticulation.
That much of the area was however still fairly wild was shown when, at the end of 1969, W. Adams, a woodcutter, "undertook to clear plots at RIO a plot, which amount is recovered from the owners concerned, plus a 15 per cent administrative charge". The following year this figure was raised to R15. At the same time a more promising sign was the establish­ment of a Post Office at Table View.